EAPS 2020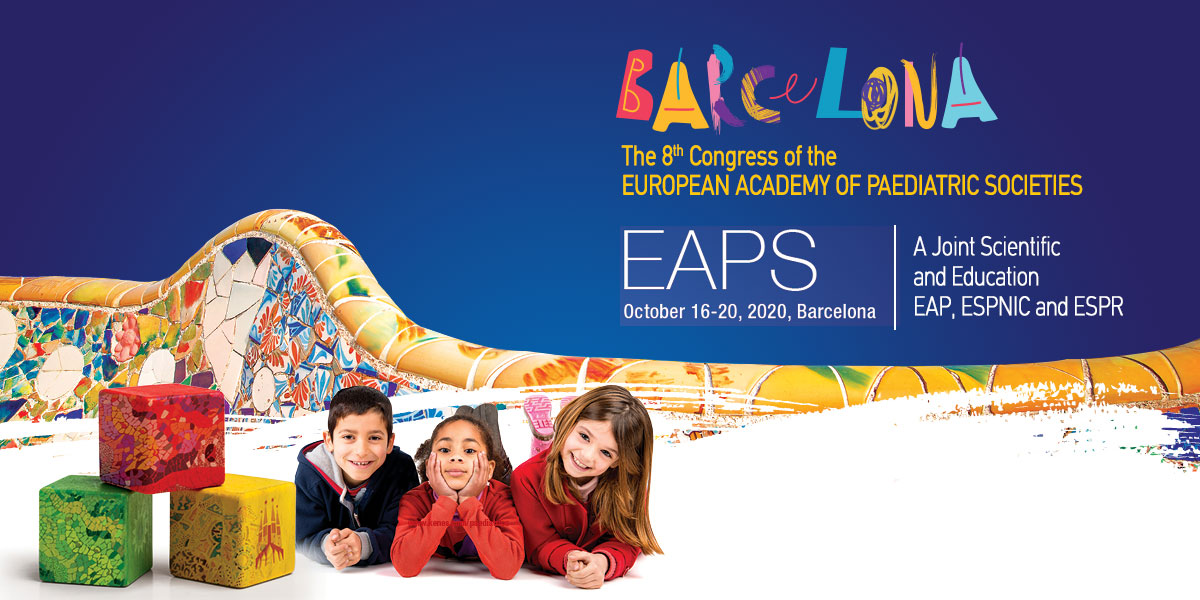 October 16, 2020
@
12:00 am
–
October 20, 2020
@
11:59 pm
It is a honour and pleasure to invite you all to the 8th Congress of the European Academy of Paediatric Societies, EAPS 2020 in Barcelona under our congress motto ""Shaping the Future of Child Health"
The combined efforts and talents of the best and brightest minds in paediatrics have turned this biannual event into a major educational and research platform, attracting high quality scientific presentations that have subsequently appeared in high-impact journals.
The Congress is organised by the three societies: the European Academy of Paediatrics (EAP), the European Society for Paediatric Research (ESPR) and the European Society of Paediatric and Neonatal Intensive Care (ESPNIC). Eleven other European paediatric societies will join as collaborating societies, including the European Respiratory Society (ERS), the European Society for Paediatric Anaesthesiology (ESPA), the European Society for Paediatric Gastroenterology, Hepatology and Nutrition (ESPGHAN), the European Society for Emergency Medicine (EUSEM), the European Society for Paediatric Nephrology (ESPN), the European Association of Palliative Care: Paediatric Taskforce (EAPC), the European Paediatric Neurology Society (EPNS), the European Society For Paediatric Endocrinology (ESPE), the Association For European Paediatric and Congenital Cardiology (AEPC), the Spanish Association of Pediatrics (AEP) and the Catalan Pediatric Society (SCP).
A central feature of the Congress are the free scientific papers presenting new information from all areas of paediatric medicine and child health. Submitted abstracts to EAPS 2020 will facilitate robust debates, thoughtful conversations and fruitful collaborations, with the future of paediatrics being greatly enhanced as a result. We encourage you to submit your abstract and to share your experience and results with the broad paediatric community,
We will be fortunate to have attracted world-renowned scientists and clinicians to give plenary and symposium presentations. The scientific programme section on this website is continuously updated to present to you the latest version of the programme. A further highlight are the pre-congress courses on October 16, where the organising societies offer training courses and courses for continuing professional development/education. Indeed, the Congress programme will have something to offer to everyone. The promotion and advancement of high-quality paediatric care and training worldwide has a powerful advocate in EAPS 2020. Its compelling and comprehensive scientific programme will unveil the latest research and analysis in the field, as presented by a renowned international faculty.
The Congress Venue is located in the Barcelona neighbourhood of Sant Martí with easy access to the airport and 500 metres away from beautiful beaches. Barcelona is a truly exciting city that has numerous facets to exlore and enjoy.