Watch our weekly webinars where guest speakers discuss the impact of the virus on a range of issues including ethics; mental health; future children centric health policies.
Please contact the secretariat at secretariat@eapaediatrics.eu  for more information.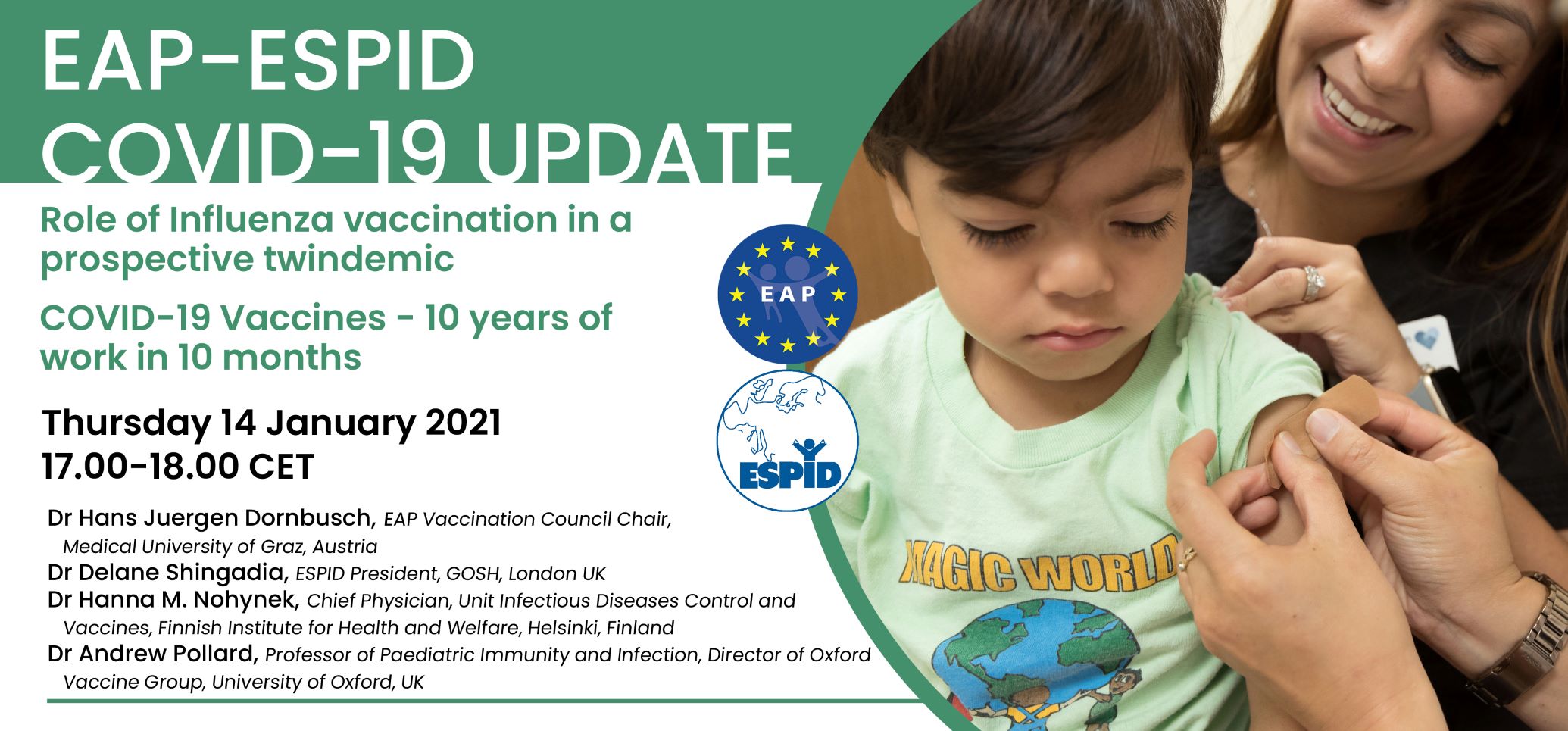 EAP COVID-19 Update | 14 January 2021
The next EAP COVID19 webinar will be in collaboration with ESPID  
Hans Juergen Dornbusch, Delane Shingadia, Hanna M. Nohynek & Andrew Pollard will talk about the role of influenza vaccination in a prospective twindemic and COVID-19 Vaccines.
Polyunsaturated fatty acid supply during the first 1000 days – can the controversies be resolved?
08 July 2020 | 14:00 – 15:15 (CET) & 17:00 – 18:15 (CET)
Hosted by the Child Health Foundation (Stiftung Kindergesundheit), jointy with European Academy of Paediatrics (EAP) and European Foundation for the Care of Newborn Infants (EFCNI)  
Speakers: Susan Carlson (University of Kansas, USA), Berthold Koletzko (Child Health Foundation, LMU – University of Munich, Germany) & Silke Mader (European Foundation for the Care of Newborn Infants, Munich, Germany)
Pre-registration for this meeting is required.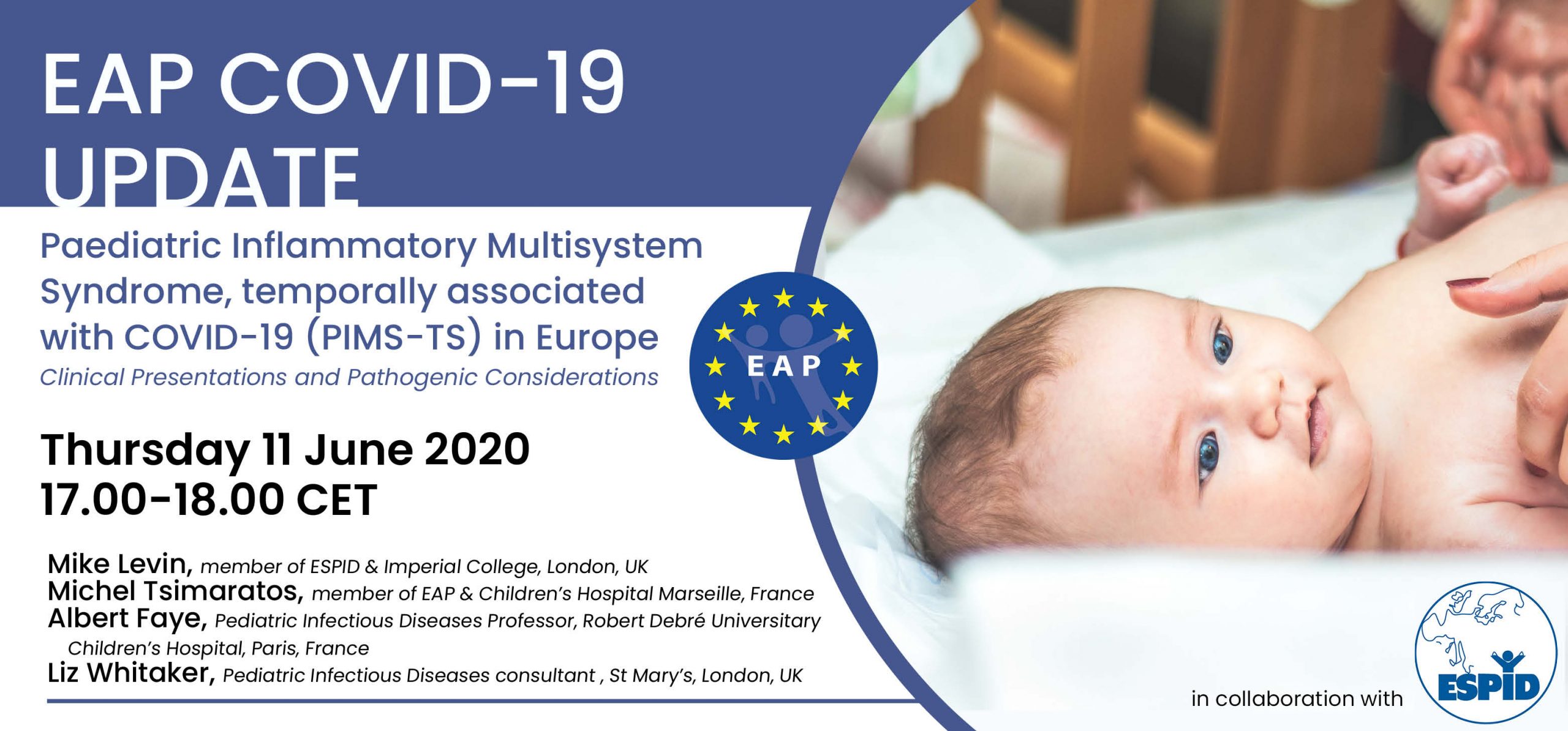 EAP COVID-19 Update | 11 June 2020
The next EAP COVID19 webinar will be in collaboration with ESPID  
We will be talking about Paediatric Inflammatory Multisystem Syndrome –Temporally Associated with SARs CoV2 (PIMS-TS), in Europe – Clinical Presentations and Pathogenic Considerations.
Chairs: Mike Levin & Michel Tsimaratos
Speakers: Albert Faye & Liz Whitaker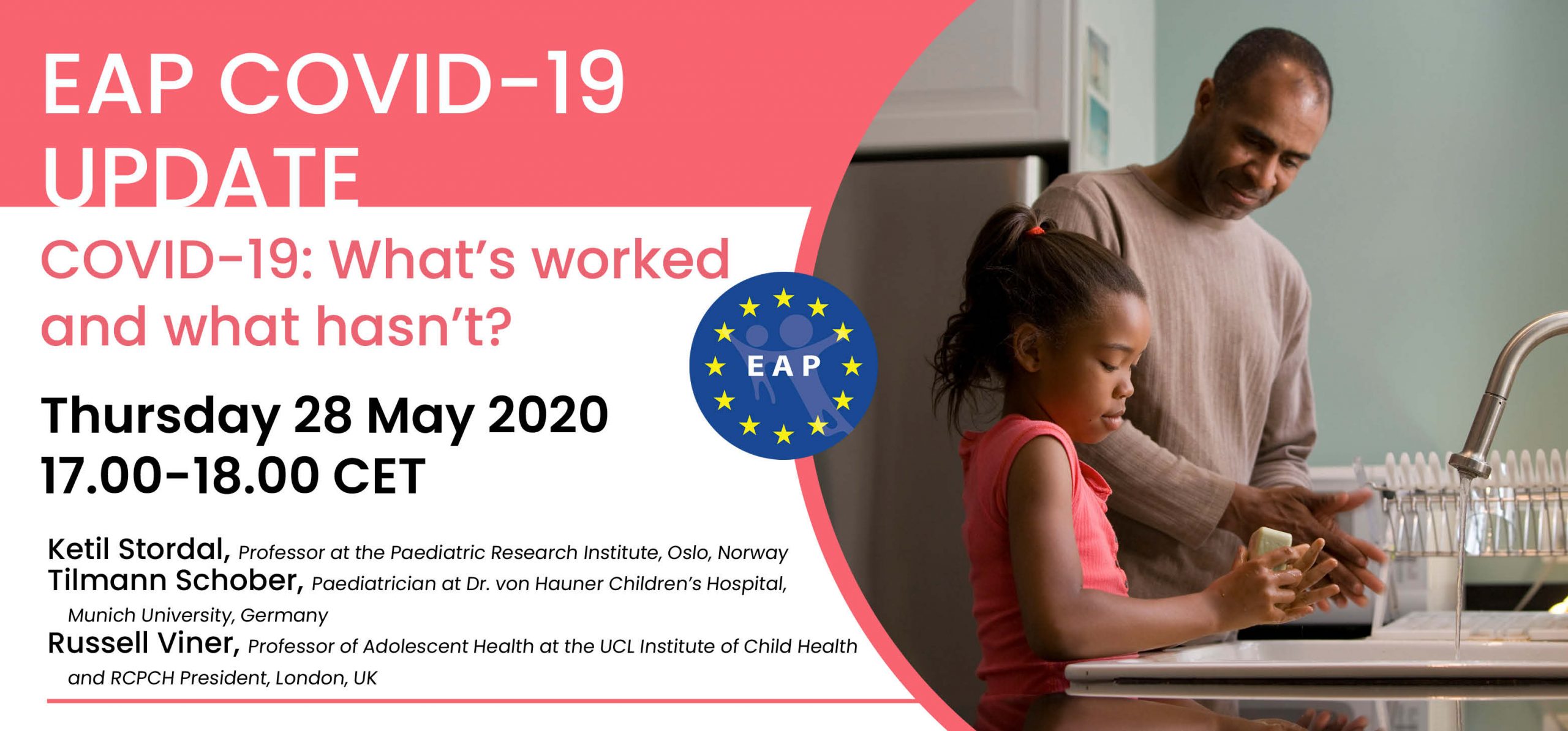 EAP COVID-19 Update | 28 May 2020
Ketil Stordal, Tilmann Schober & Russell Viner will talk about COVID-19: What's worked and what hasn't, the lessons learnt and how we move forward.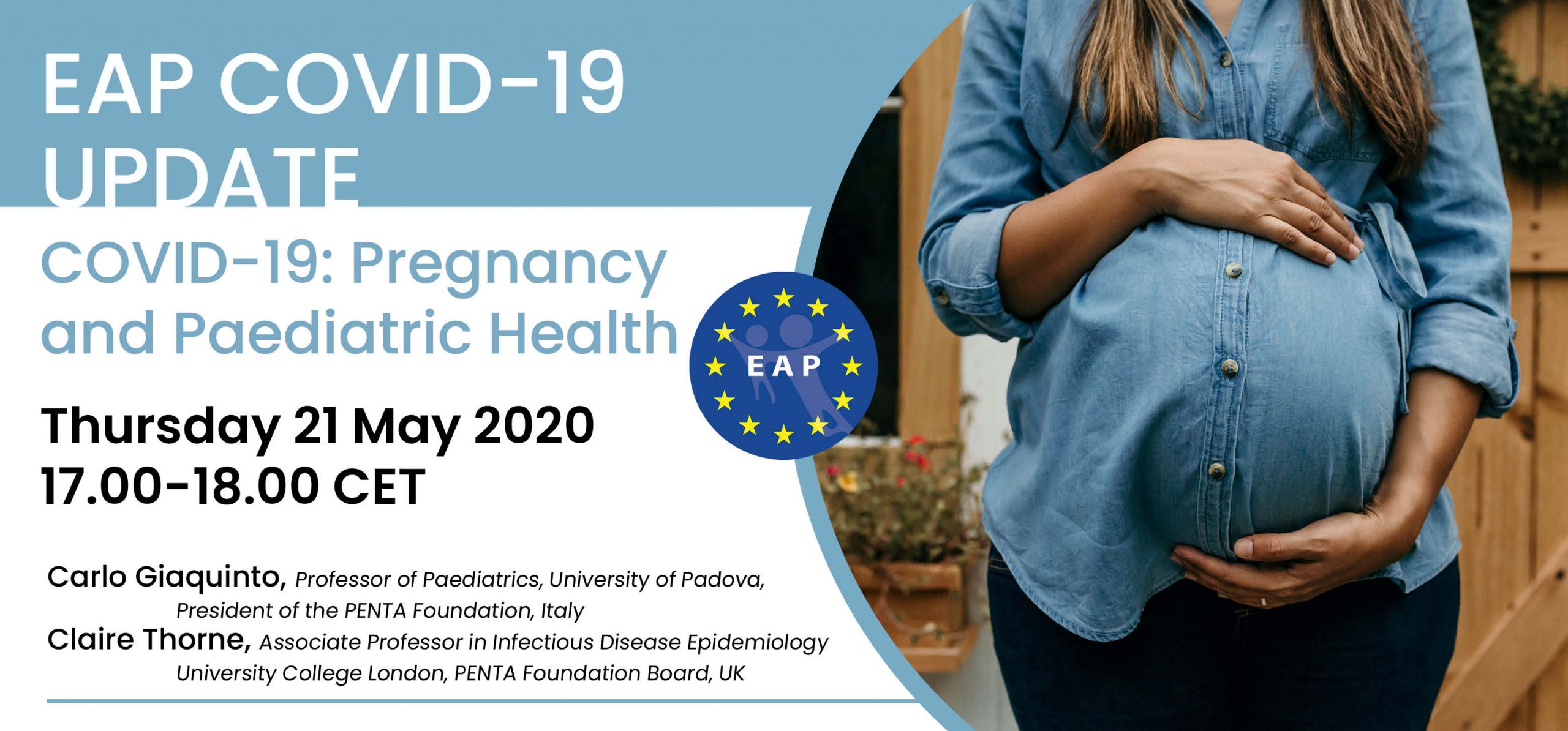 EAP COVID-19 Update | 21 May 2020
Research to help Women and Children – the PENTA Foundation approach to COVID19 outbreak  by Carlo Giaquinto & Claire Thorne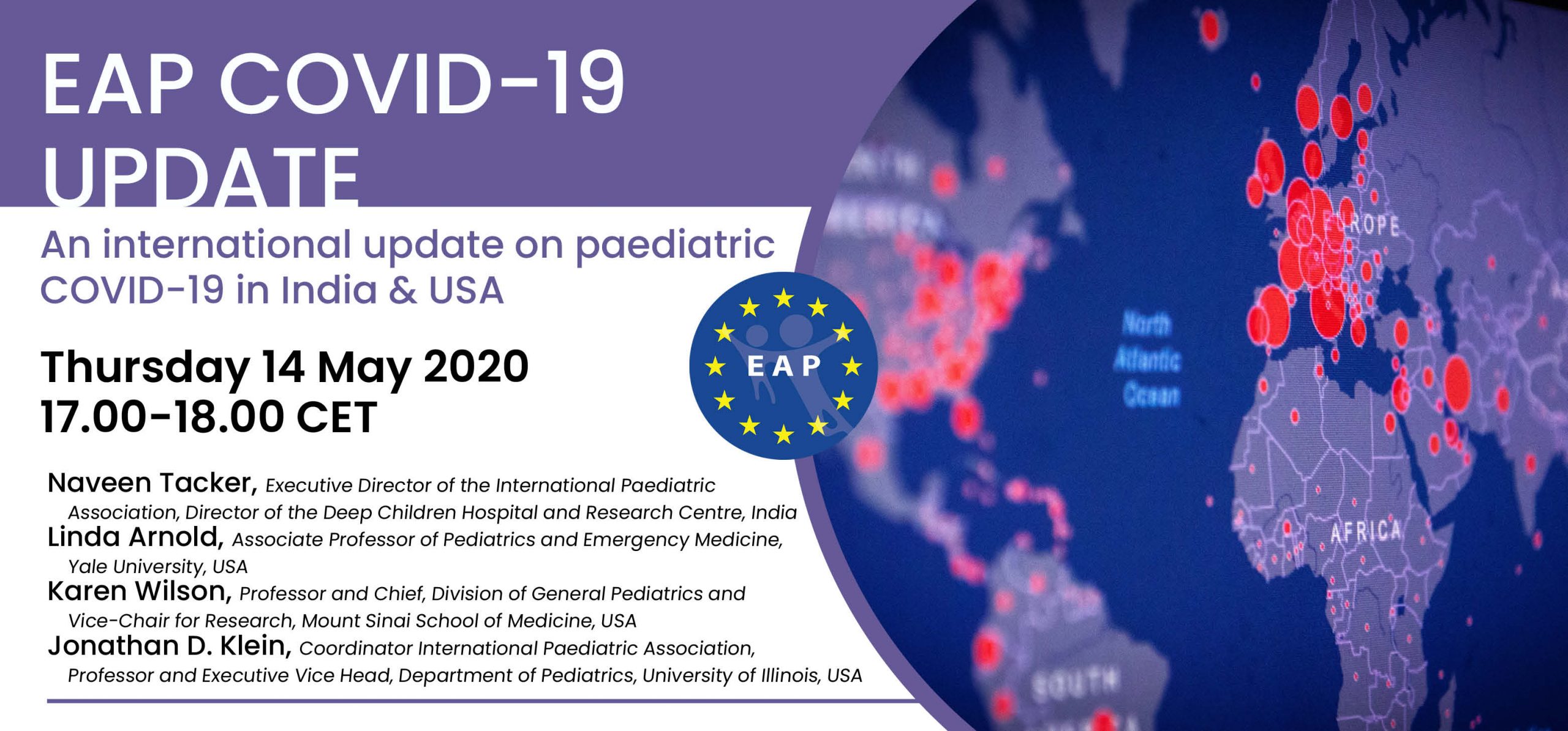 EAP COVID-19 Update | 14 May 2020
This week we will be talking about COVID19 and  Global Paediatric Health.
The Indian perspective: will be discussed by Naveen Tacker, followed by the US Perspective, which will be covered by Jonathan D. Klein, Linda Arnold and Karen Wilson.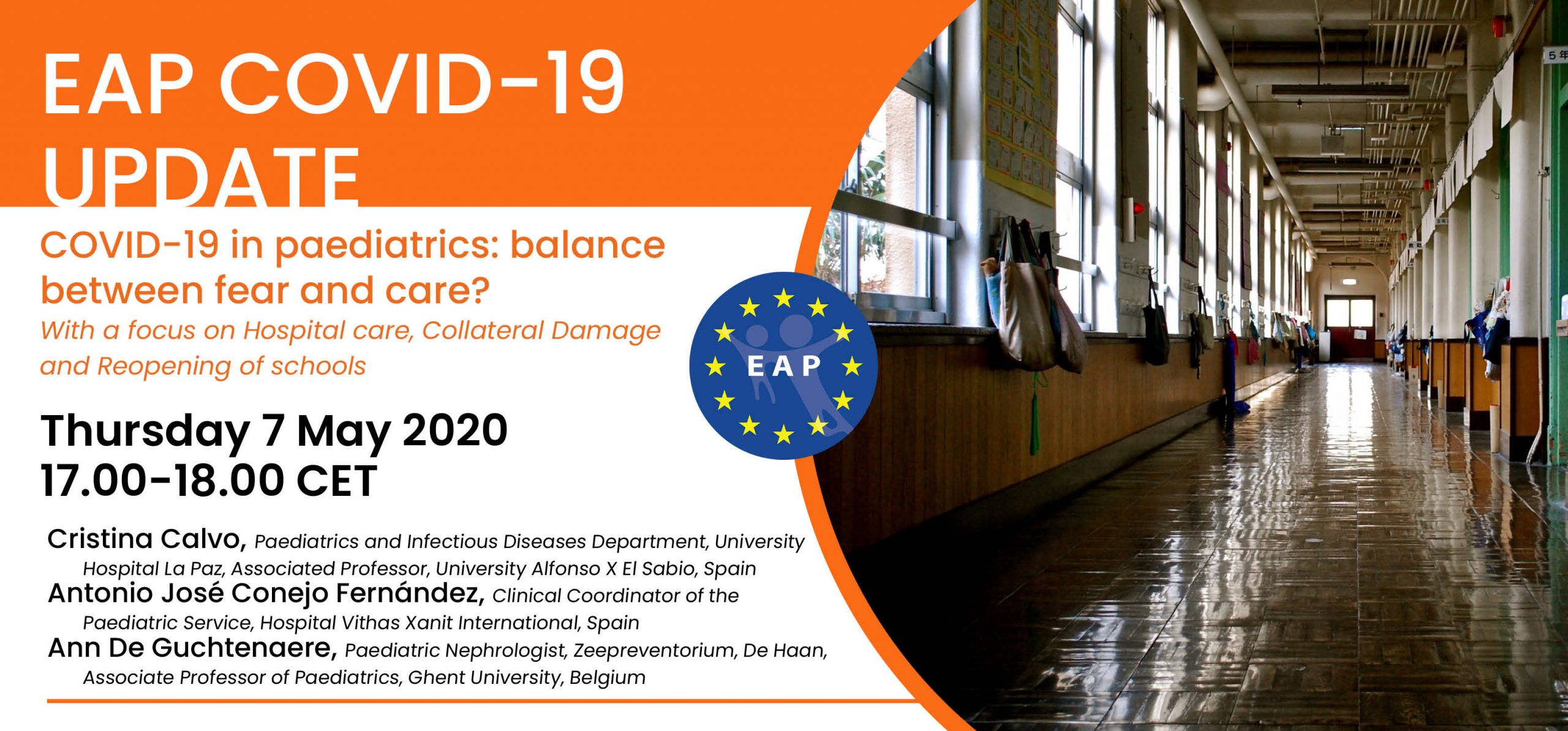 COVID-19 in Paediatrics: Balance between Fear and Care?
This week Cristina Calvo, Antonio José Conejo Fernández and Ann De Guchtenaere will be talking about the effect of COVID19 with a focus on Hospital Care, Collateral Damage and Reopening of schools.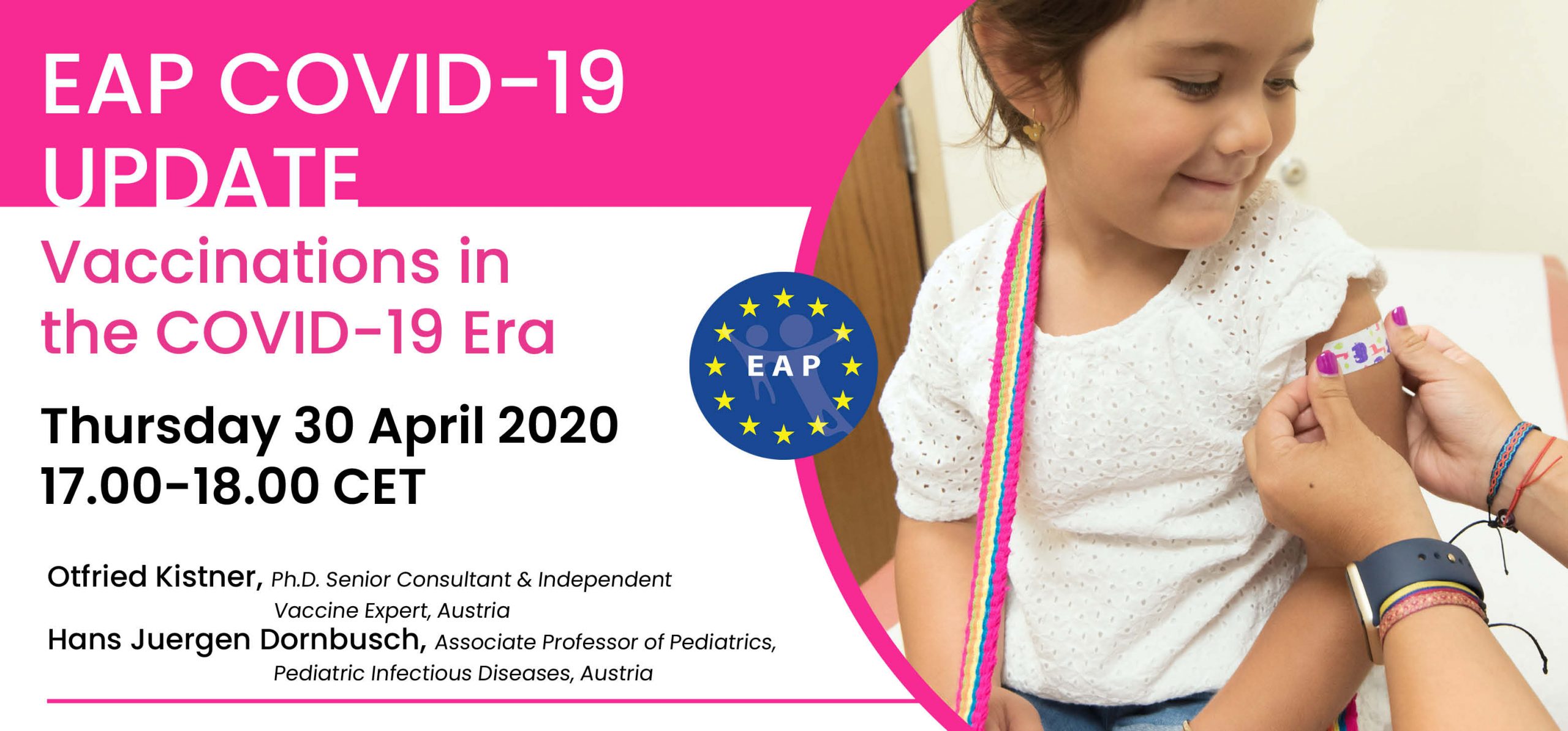 Vaccinations in the COVID-19 | 30 April 2020
This week Otfried Kistner and Hans Juergen Dornbusch will be talking about the effect of COVID-19 on vaccinations and some of the collateral damage that may be caused by the pandemic.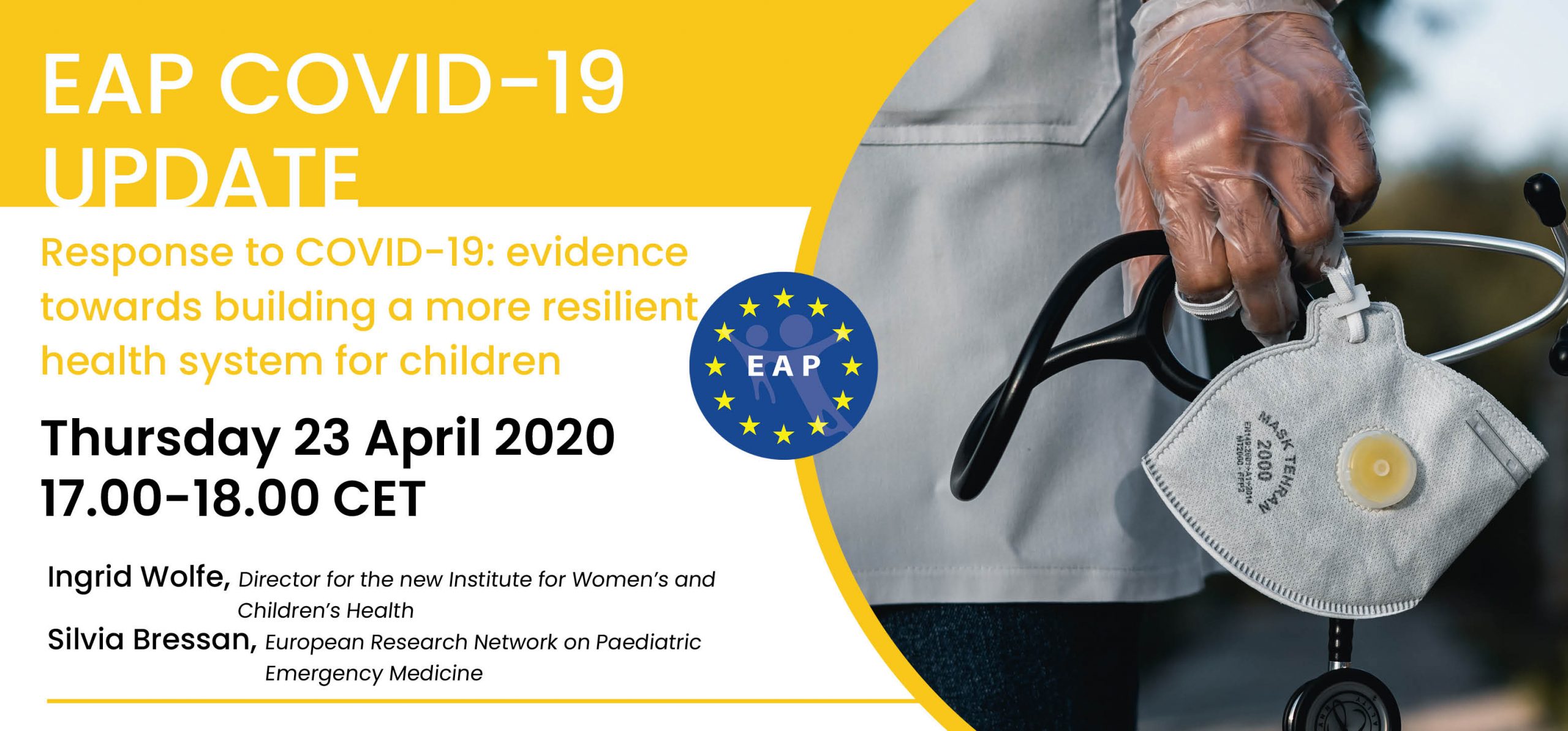 Response to COVID-19 | 23 April 2020
This week Ingrid Wolfe & Silvia Bressan will speak about COVID-19 and the evidence towards building a more resilient health system for children. 
In view of the limited places, you will need to register in advance for this meeting.
After registering, you will receive a confirmation email containing information about joining the meeting.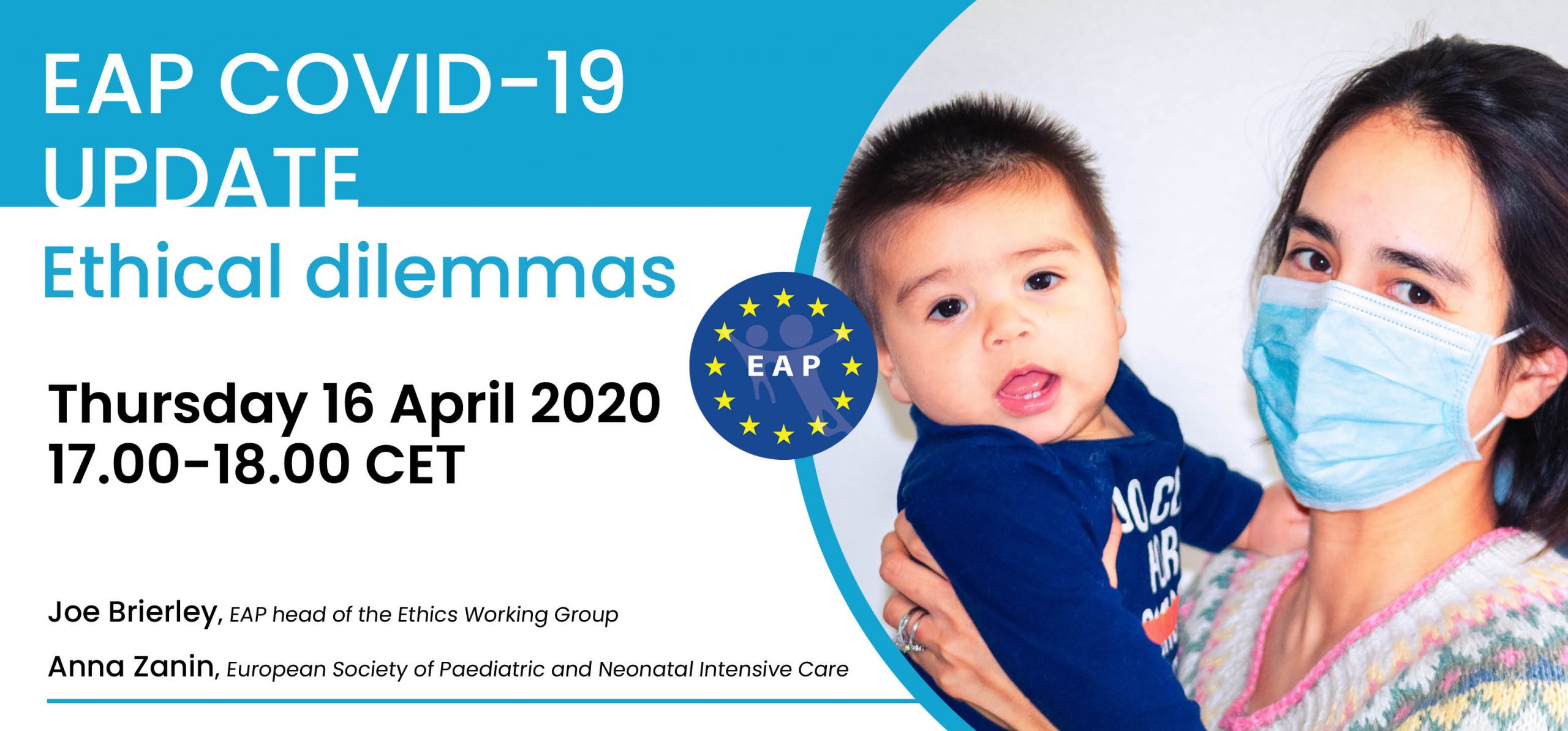 Ethical Dilemmas | 16 April 2020
This week Anna Zanin and Joe Brierley discuss ethical aspects of the pandemic.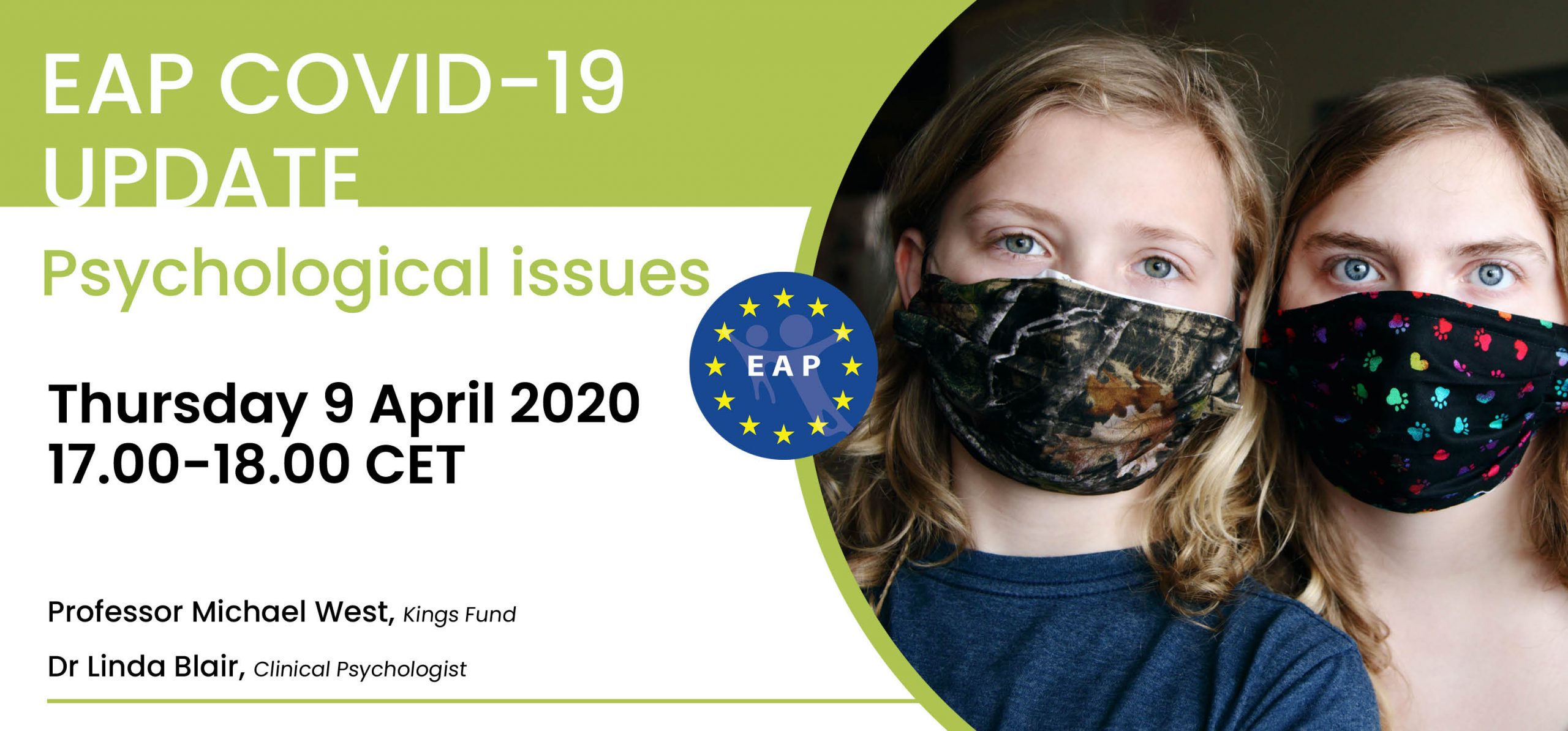 Psychological Issues | 9 April 2020
How should we communicate with children, and with colleagues, in these extraordinary times? Tips and messages from two international experts about what helps get the message across effectively.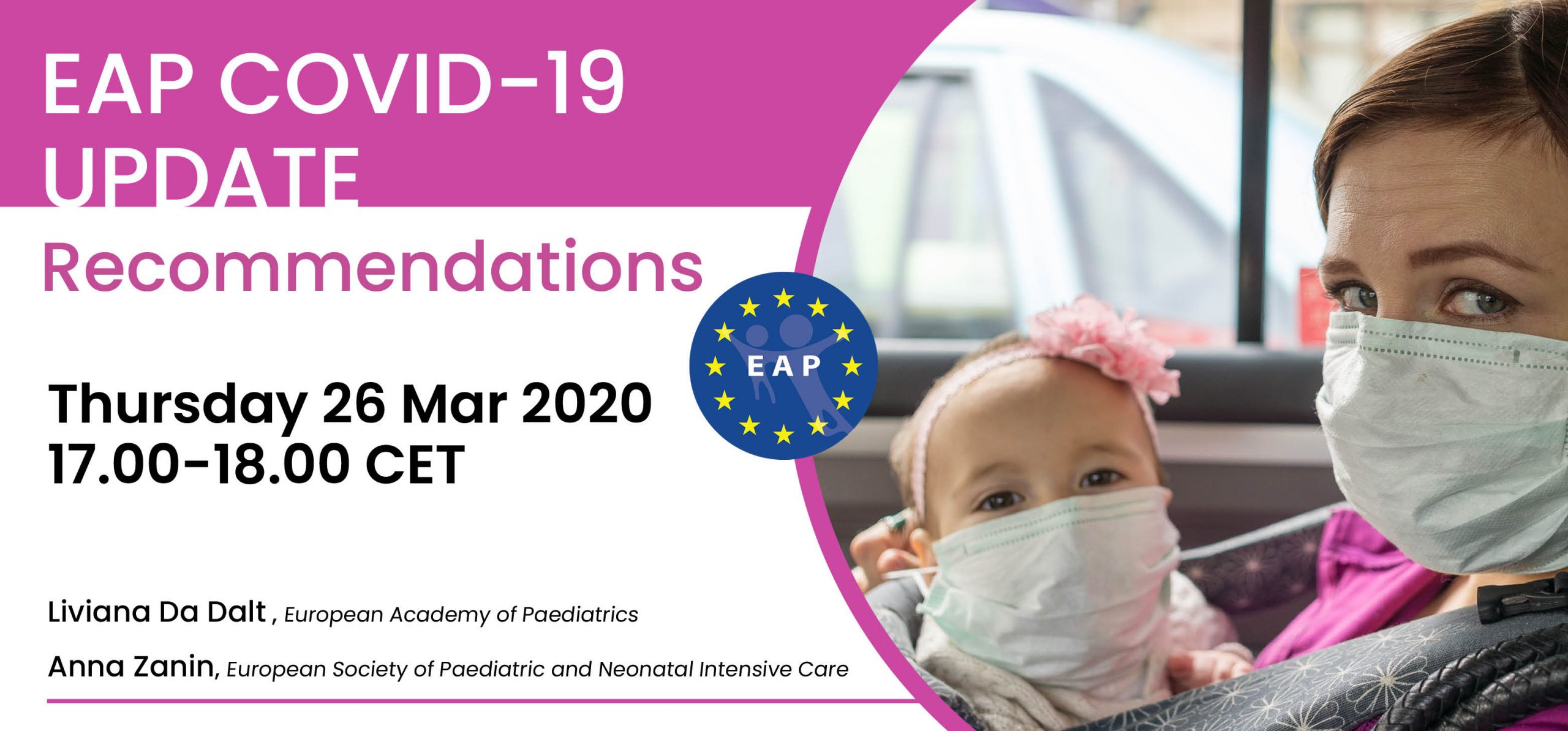 Recommendations | 26 March 2020
Colleagues in Italy discuss the coronavirus pandemic as it has affected them. Being the first major European hotspot, they provide helpful information on what we might expect over the next weeks.
Don't Wait Any Longer.
Sign up to receive our News!